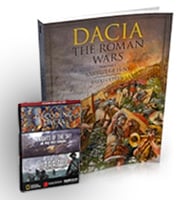 $

24.95 - On Sale
A combination package - Book and DVD Boxset
DACIA - THE ROMAN WARS - VOL 1
Exceptional new illustrated book written, illustrated and designed by Radu Oltean. The 150 page large format, glossy pages, book describes in detail the first or two invasions of Dacia by Emperor Trajan in 101-102 AD.
ROMANIA AT WAR DVD SET
Decoding Dacia - 50mn.
Knights of the Sky - 50mn.
Hill 789 - 50 mn.